For once it was cold enough to wear a coat! I look forward to these days because they're so few and far between. My coat selection is small and I think this one had been hidden away for years. I love the pretty tiers on the bottom, I think it compliments the full skirt of this Hell Bunny dress quite well.

I also have to mention that some creepy farmer guy watched me take these pictures from his truck the entire time. I was a little freaked out at first, but I just wanted to get the heck out of there with some decent pictures. I'm still getting used to taking pictures in public. People are always interested in watching some weird girl in heels with a baby and a tripod...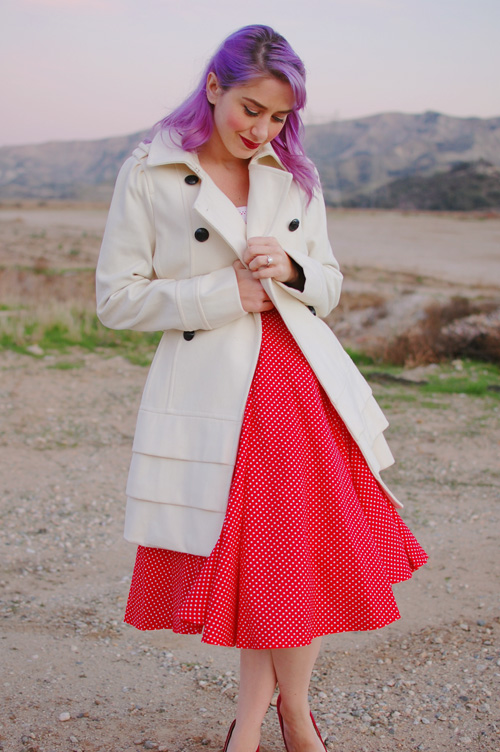 This is my last post of the year! I feel like I always reflect on these last twelve months as I write the final one. My life has been through a lot of change: having a baby, quitting my job in the medical field, becoming a stay at home mom, and then working part time at Unique Vintage. I really love where my life is right now. I get the best of both worlds; quality time with Bianca and a wonderful job with the greatest coworkers. I feel like when I'm old I'll probably look at this time the fondest. It's almost too good!
I hope you have a safe and wonderful New Year. I'll be staying in and enjoying the festivities from home. Bianca's first birthday party is in a few days and I'm going crazy trying to get a bunch of projects finished. I'm not usually a DIY type of person but I feel like going all out for my little girl. Let's hope I get it all done in time!
xoxo
Ashley