This is coming a little late this month (seriously, where did September go?) but it's still full of great finds! While my focus is always on dresses, I do my best to add accessories and even home decor to my wishlists. Here's what I've been looking at for my fall additions.
Unique Vintage:
This is pretty much the cutest novelty print ever! I've seen this dress in another style but I really like the Peter Pan collar on this one.
I don't have many coats because I only use them for a month or two a year. I must be crazy because I'm always looking for a new one! I love the look of a great peacoat and this teal one is perfect.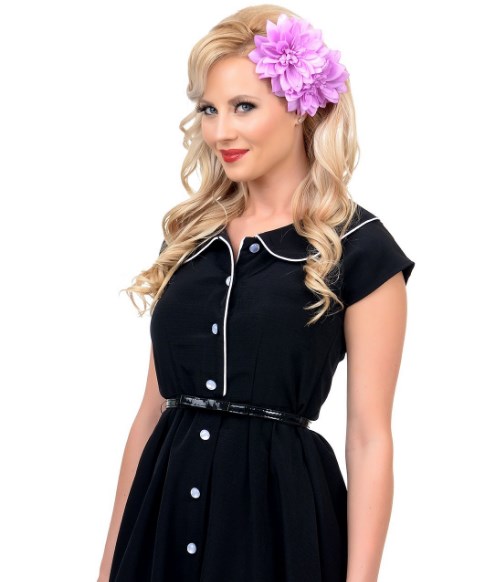 I love hair accessories but I seem to forget to wear them all the time. I love hair flowers and this one happens to be in my favorite color.
Modcloth:
Okay, it's a dog printed dress that includes chihuahuas! Need I say more?
I love wiener dogs and my Tommy is half of one :). I also love my morning coffee so I wouldn't mind adding this mug to my collection!
I have absolutely no reason to purchase a shark shaped sleeping bag. But I can't help but want it anyway! Who wants to come to a sleepover?
What seems like a cute printed top from far away is actually full of cute little French Bulldogs. I love this so much!
ASOS:
This print is just too gorgeous to pass up! It seems like more of a summer print but it could easily be worn in the cooler months with some great layers.
I love me some matching separates but this skirt is the winner here! I really like the length and the print is so vibrant.
I probably won't be doing much shopping because I ordered a few Stylish Surprises with Modcloth yesterday. I don't know why but the mystery box is too hard to resist! What's on your wishlist for the fall?