I know I can't be the only one who enjoys a good theme outfit! Every fourth of July I find a cute and equally patriotic outfit to wear. We usually stay home on this holiday so I'm always on the hunt for something that's casual and can handle the insane heat we experience every year. Here are my picks from Modcloth that would make your outfit the talk of the party :).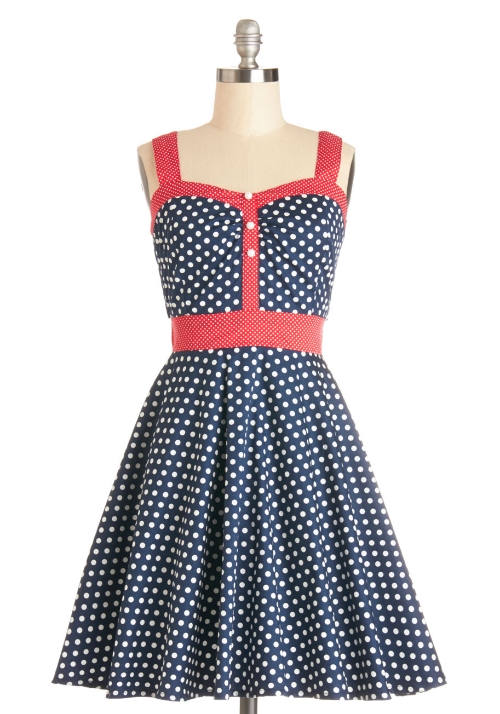 Can you blame me for falling in love? This is the perfect patriotic dress. Plus, you could proabably get a great twirl effect from it. Am I the only one who thinks about that when purchasing a dress?
You can wear a scarf so many ways, but I think this would look best as a headscarf. Perfect for holding your hair back on a hot summer day!
I love the modest cut of the Chalk of the Town dress (yes, it comes in more than one print!). This plaid pattern is patriotic and reminds me of a picnic. I think that's a great combo!
As a mom, I'm big on wearing flat shoes these days. These are ridiculously cute without having to sacrifice any comfort. Who wants to wear heels to a BBQ anyway?
Get outta here with the ant print dress! Yes, the print is adorable but the matching belt and strawberry buttons on the shoulder really got me. Oh, and pockets. Need I say more?
This hat is seriously swoonworthy. It's casual enough to wear with an everyday outfit but pretty enough to stand out in the crowd. This needs to get into my closet now!
Have you chosen your outfit for the 4th? Whatever your outfit plans are, make sure to wear sunscreen!
xoxo
Ashley