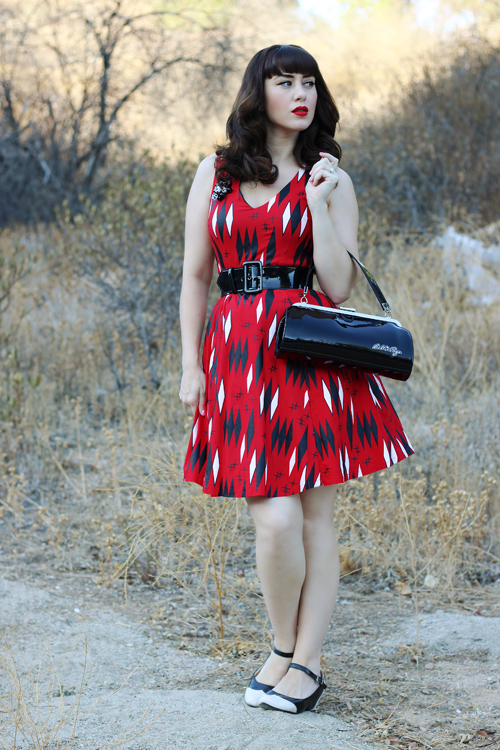 I figured my blog was due for another giveaway, this time with Sourpuss Clothing! I'm no stranger to Sourpuss, they're always my go-to for fun gifts, cute enamel pins (you should see my pleather jacket), Bianca's spooky/funky clothing and my own wardrobe as well. While they carry tons of brands of my personal liking, their house brand is full of original pieces that won't break the bank! Read more about this Retro Diamonds dress and enter the giveaway below:
Dress-
c/o Sourpuss Clothing
Shoes-
Chase & Chloe
Underskirt-
Pinup Girl Clothing
Purse-
c/o Sourpuss Clothing
Brooch-
Luxulite
Belt- From another dress
Like most of their dresses, this one is lined in stretch satin which means it's incredibly comfortable to wear. I love the luxurious feel on the inside with the fun print on the exterior. This particular dress is longer than their usual cuts, which makes this tall-ish/prude-ish lady very happy. It has just enough length without the feeling of being overwhelmed by the garment. Of course, I can't get enough of the fun harlequin print. Overall, I'm really happy with this dress and can see myself wearing this as an "everyday" kind of dress.
Now, onto the fun stuff! Sourpuss Clothing was lovely enough to offer a Bettie Page Cover Girl bag for the giveaway. This is open to everyone (internationally as well) and there are no mandatory entries. Feel free to enter as many as you'd like, but the more you enter, the better the chances you'll win :). This giveaway will run until MIDNIGHT on September 9th PST, so technically until very late on Thursday night. I'll announce the winner sometime during the following week. Good luck to all!
a Rafflecopter giveaway
xoxo
Ashley